Sunday, October 26, 2008
1. The pumpkin patch
The boys always have so much fun at the pumpkin patch. Unfortunately this year, due to time constraints and long lines, we weren't able to do everything we wanted to do, but we still had fun. And we got 3 HUGE pumpkins for only $10.75, which is awesome. At lesser pumpkin patches, these pumpkins would have been $10-$15 each.

We did some of the corn maze, which the boys thought was fun for about 7 1/2 minutes. Which is okay, because the maze is ginormous, so it would have been worse if we had been smack in the middle of it and then they decided not to walk anymore. This year's maze was cut into the shape of a Toyota Tundra. This is an actual aerial view of the maze. All the green is corn.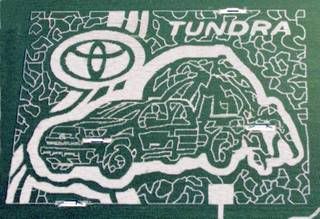 My pumpkin boys: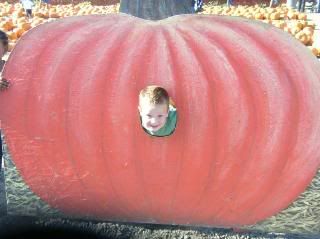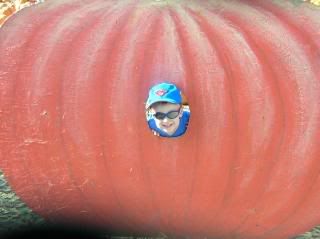 In the pumpkin maze and overlooking the pumpkin maze: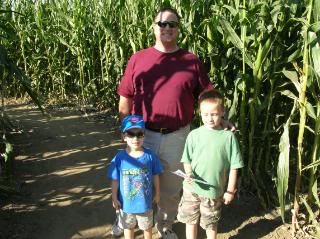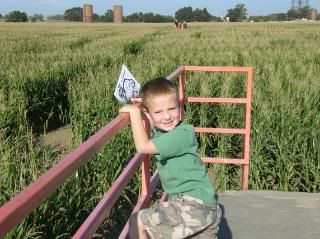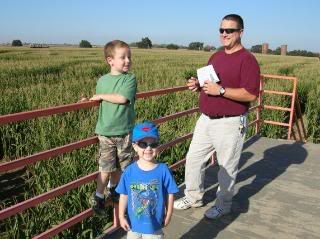 Fun pictures and pony rides: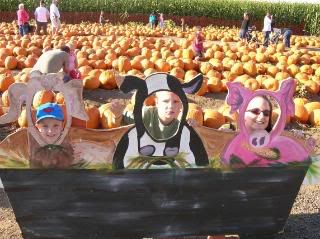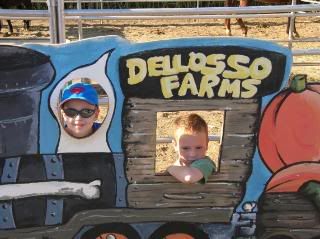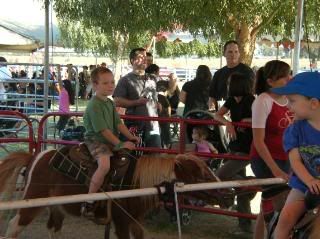 2. Halloween goodies
No, not just candy, but other Halloween themed yummies. I have an Amish Friendship Bread starter that I've been using to make bread for the last couple of months. The boys love it for breakfast. For the most recent batch, I replaced the oil with canned pumpkin, and it made really yummy pumpkin bread. Today, I made roasted pumpkin seeds using the seeds Brian pulled out of the pumpkins he carved. I made one batch just regular salted, and the other batch spicy with garlic salt and cayenne pepper and Worcestershire sauce. Delicious! And last night, the boys and I had a blast decorating Halloween cupcakes:




3. Little boys in Halloween costumes
What could be better than little boys dressed in their costumes, totally getting into the spirit with a cool action pose?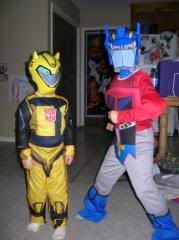 (BTW, Jacob is Optimus Prime and Logan is Bumblebee. Remember, there's more than meets the eye!)

4. Really cool carved pumpkins
Brian's project for today: carving our awesome annual jack o lanterns! They were time consuming, but quite worth it. The boys are super excited about these. Didn't he do an awesome job???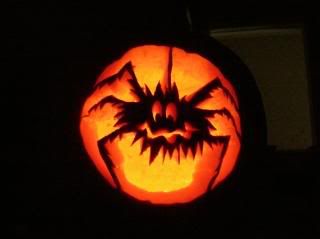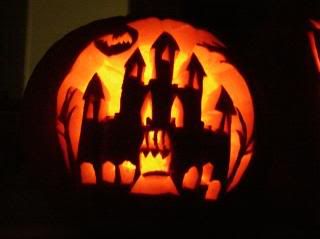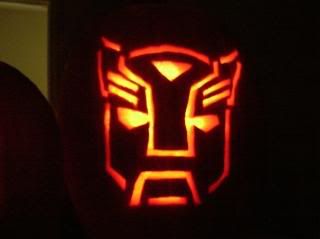 Here is one more that Brian did a few days later: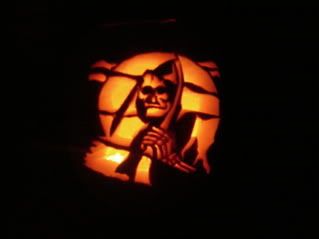 Bring on Halloween!
Wednesday, October 22, 2008
Sunday night (well, at 2:30 in the morning, so technically Monday morning) I half woke up to find Jacob giving me a kiss. Then he went right back to bed. Since I only half woke up, I couldn't be sure that I wasn't hallucinating it, so I asked Brian about it. He said he did come kiss me, and he wasn't up to go to the bathroom or anything.

So I asked Jacob last night if he had come into my room in the middle of the night just to give me a kiss. He said yes, and I asked him why (not to look a gifthorse in the mouth or anything; I'll take little boy smooches for as long as they are willing to give them to me. It was just curious timing) and he said, "So it was before you left for work." Awwwwww....
Tuesday, October 21, 2008
Yesterday after I picked up the boys, we were in the car and Jacob asked me, "When I grow up will you still be my mom?" I told him, "Of course I will still be your mom. I will always be your mom and you will always be my son." He thought about that then asked, "When Logan grows up, will he be your grandson?" I told him, "No, he will also still be my son. You both will always be my sons, you will always be brothers, and I will always be your mom." He thought about that for a moment then said, "Cool."

Later on last night, I was lying on the couch and Jacob came and lay in front of me to snuggle under the blanket. After a while I told both boys to go get their jammas on. They both ran off to their rooms, but Logan came right back, and with a mischievous little smile, proceeded to steal Jacob's spot with me. I asked him if he was stealing his brother's spot and he said yes, and then just lay there with a satisfied little smile. Jacob came back after getting changed, and expected to come right back to his spot. He was quite disappointed to find his little brother right where he wanted to be. About 10 minutes later, I told Logan to get his jammas on and Jacob stole back his preferred snuggling spot. But Logan just climbed up and laid on both of us.
Sunday, October 5, 2008
I got the most recent Lillian Vernon catalog the other day, and the first section is all the Christmas crap. (Um, isn't it only the beginning of OCTOBER?). So I was flipping through it at work, when I came across a few gems that are a bit disturbing and must be mentioned.

Let's start with these beauties. "Santa's pants treat holders". That just sounds wrong on so many levels. And let's take a look at these things. They are Santa's pants, with suspenders and you use them to put candy and whatnot in them. IN Santa's pants. And where is Santa while this is all going on? If his pants are here, filled with candy, does that mean there is a pantless Santa running around somewhere? And what is he doing while he's pantless? Do we really need to give our kids candy that comes from Santa's pants? Isn't it scary enough that legions of parents dress their children in their finest and schlep them to the malls of America each year to wait in super long lines for their turn to sit on some strange "Santa's" lap? And then they do their best to get junior to stop screaming and smile at the camera in order to commemorate their time with the weirdo in costume, which is probably traumatic for a lot of kids as it is. Aren't we giving mixed messages? We tell them, "Don't talk to strangers!" and then we lead them to believe this person isn't a stranger because he's "Santa". Oh good, so all someone has to do is dress like Santa and your kid will go anywhere with him because "he's not a stranger". Not to mention we tell our kids not to take candy from strangers, yet we take them trick or treating every year to get what? Candy from strangers. The irony is never lost on me come Halloween.

But I digress…

The second disturbing offering is this set of "Santa's clothes magnets", which consists of 2 hats, 2 mittens, and 2 coats. Of course we know that the pants are already off somewhere else, filled with candy. So now pantless Santa has turned into naked Santa, which, again, is wrong on so many levels. What's next, a Christmas special based on "Girls Gone Wild", called "Santa Gone Wild"? Is he trying to break into show biz? Why can't Santa remain dignified and wear clothing?

Finally, here is a product that just seems wrong to me. "Snowman bathroom set". The toilet lid cover is the snowman's head, and the contoured rug that goes in front of the toilet is the snowman's body. So you lift up the head to go to the bathroom, and it almost looks like you're taking a dump inside Frosty's neck. Yeah, let Frosty know what you really think of him!

Obviously these items will not be gracing my home this holiday season.
Friday, October 3, 2008
I've always tried to avoid drinking coffee on a regular basis. I've never wanted to become one of those people who can't function on even a cellular level until they've had coffee. "Instant human, just add coffee!" And considering I'm 30 I think I've done a really good job of this so far. Plus I've never really cared for coffee. Blasphemous, I know, but to drink it I've always needed to really be in the mood for it.

But after 2 years on my job, all but the first 3 months of which have been on this heinously early schedule, I'm starting to succumb to the sweet siren song of that we call coffee. For at least the last week solid I've been making my own mocha type drink before leaving for work: hot chocolate with instant espresso powder thrown in. Oh yeah, if I'm going to be a coffee addict, I'm going all the way! And the amount of espresso powder has slowly increased over the course of the week, to the point where my brain feels just a bit jittery.
I think my workplace has a way of turning people into coffee addicts. I've talked to coworkers who, like me, never drank much coffee before, but since they've been here, they've converted and become hooked. I do not think I am past the point of no return, yet. But when I skip a day and get a headache due to the lack of caffeine, only then will I know without a doubt that I am coffee's bitch.